Announcement: Audit management
The QM pilot will be offering a software module for audit management from spring 2020.
Audits are relevant for most companies - whether as part of a certification, internal audits or supplier audits. Central and comprehensive audit management is essential for this.
In the QM pilot, audits can be created and managed in a free structure. The entire process from planning to implementation to action management is taken into account.
In audit management, all audit-relevant data can be recorded in up to four differently configured input masks. All data already in the system (processes, documents, risks) can be linked directly to the audits. This enables a subsequent evaluation of the audited processes and related documents.
Checklists can be created freely and filled out directly in the system. The integrated management of measures for detected deviations and information completes the audit management.
The audit management module is an optional additional module.
Audit data
Choice between four configurable input masks (internal, external, suppliers, other audit)
Acquisition of basic audit data and linkage to audited processes, people, standards ...
Can be expanded with configurable characteristic data fields
The date and time are included in the audit calendar
Specified auditors and auditors can be informed by email notification
Storage structure freely selectable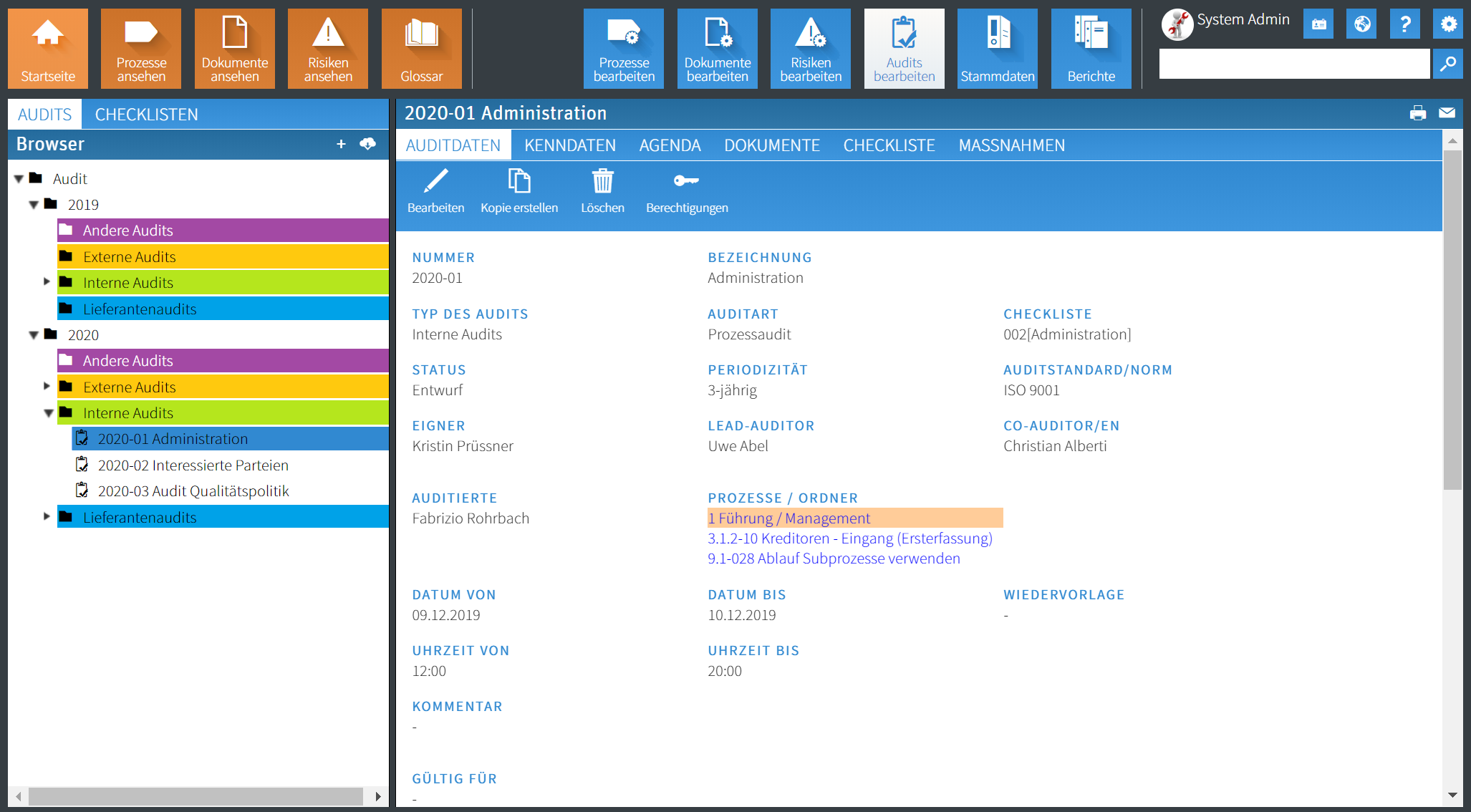 Agenda
Creation of a detailed agenda for the audit including date and time
Collection of additional data such as topic, location, checklist and participants
Linking checklists with individual agenda entries
Agenda can automatically be attached to the email notifications as a PDF
Checklists
Adding questions / requirements to checklists
Inclusion of each question in a question pool that is available for new checklists
You can create your own rating scales
Checklist templates can be used multiple times in audits
Complete the checklists in the system
Measures for deviations in the checklist view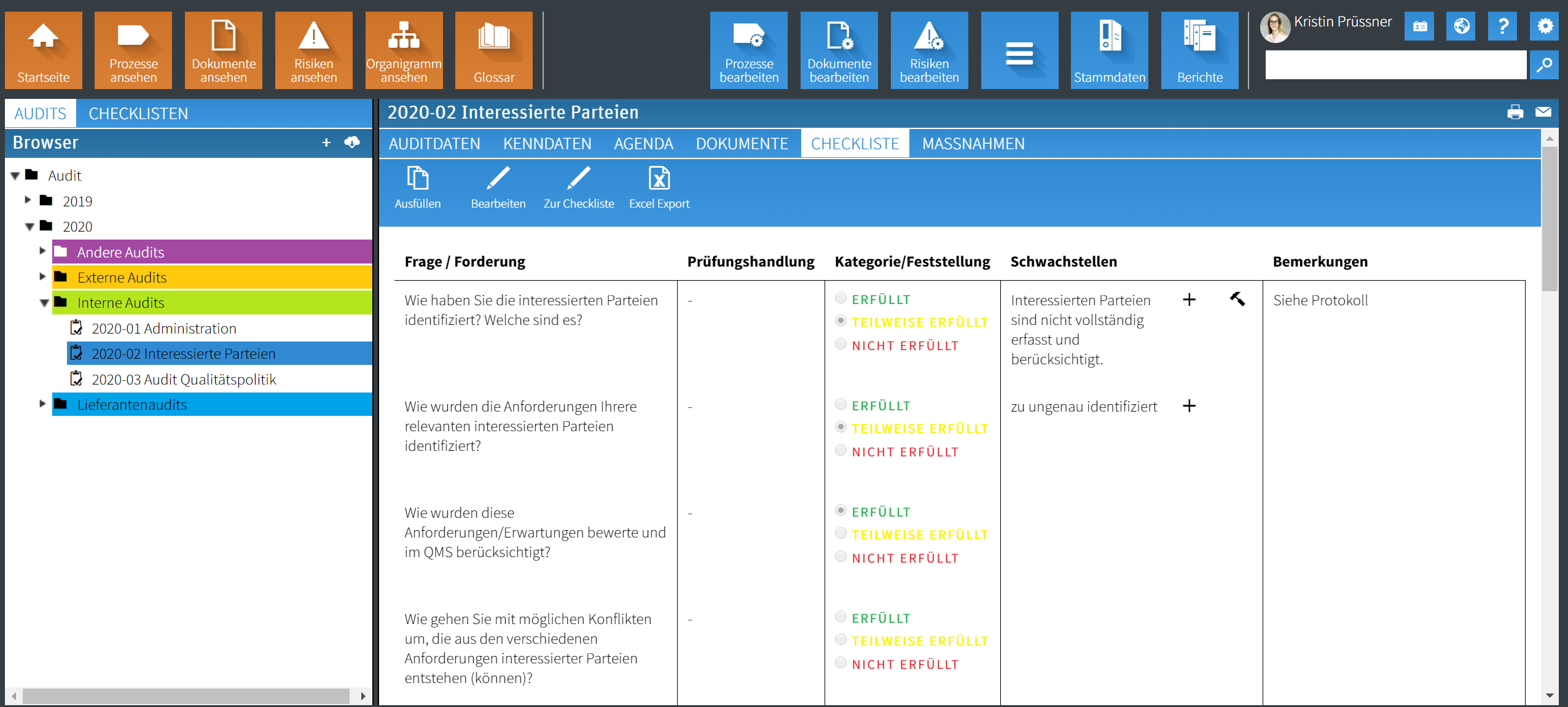 Measures
Recording of measures in connection with deviations
Registration of general audit measures
Email notifications for managers and auditors
Overview of all measures recorded for the audit
Reporting on all measures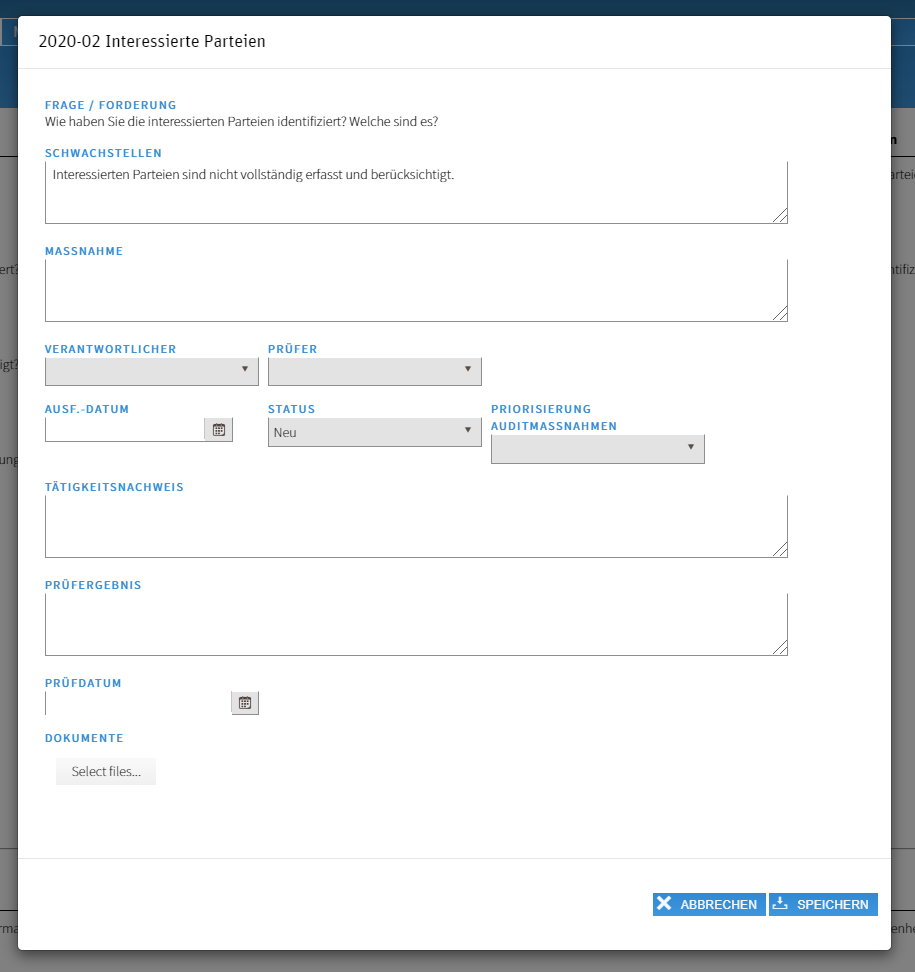 More functions
Document filing for the audit
PDF report of the audit
Authorization control for all areas
Calendar overview for all audits
Portal overview "Open measures", "My audits"